OBJECTIVES
The programme aims at reskilling, upskilling and building the capabilities of workers of the Tourism sector who are impacted by the fall in tourism arrivals due to COVID19 situation.
As part of the Stabilisation and Support Package and supplementary Resilience Budget announced by DPM Heng Swee Keat, enterprises (SMEs and non-SMEs) in the tourism sectors will be eligible for the Enhanced Training Support Package (ETSP) - comprising enhanced AP funding rate at 80% of hourly basic salary, capped at $7.50 per hour and enhanced Course Fee support at up to 90% of course fees.
WHO SHOULD APPLY
The ETSP will be time-limited to cover eligible courses starting from April – June 2021. Enterprises (both SMEs and non-SMEs) with a Hotel License are eligible for the enhanced course fee grant and enhanced absentee under the ETSP if they send their employees for training with us. Applicable only for Singaporeans and Singapore PR.
CONDITIONS
Similar to existing requirements for other training grants administered by SkillsFuture Singapore (SSG), trainees must fulfill minimum attendance of 75% and pass the assessments to qualify for course fee subsidies and absentee payroll.
ELIGIBLE COURSES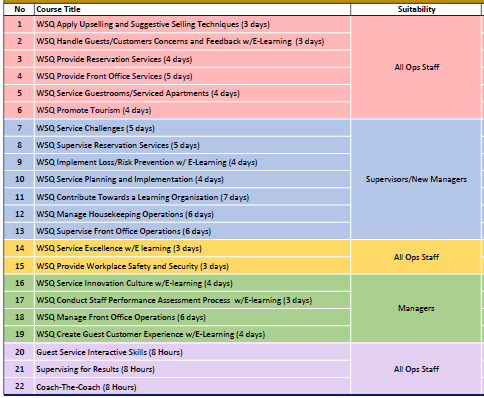 COURSE SCHEDULE
CLICK HERE
COURSE FEES
CLICK HERE
HOW TO APPLY
CLICK HERE